Kadria Pregnancy And Baby Products Review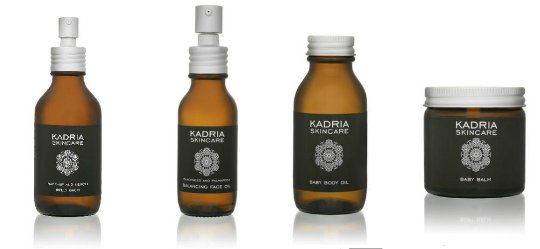 Like most of us, I really enjoy pampering as much as possible. I specifically love that where ten years ago organic, natural products were expensive, exclusive and elite, today it's easy to find decent products at completely acceptable prices – sometimes even cheaper than mainstream alternatives.
Kadria is a new product  - to me at least – and I've loved being lucky enough to test it.
The set consists of five products – Belly Balm, Balancing Face Oil, Baby Body Oil, Labour Oil and Baby Balm. I was sent four of the products – we didn't get to try the labour oil – and have been using them religiously.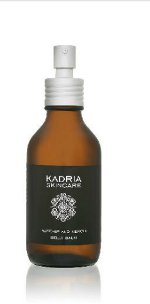 My favourite product, I think, is the Belly Balm. It's a rich, smooth, ointment that feels nourishing and enriching on the skin. I have been using a variety of stretchmark and massage oils over the last few months of pregnancy, but there's a lot more belly this time at 35 weeks than there was with my daughter. (When I went on maternity leave at 36 weeks with her, people were asking why I was going so early thinking I was only about half way!) This time I look a lot more like my 8 months of pregnancy.  As a result I've a lot more stretch marks than last time too, which I found rather alarming.
The belly balm has come in really handy – whether it's doing anything or not I'll really only know after the fact, but I know that the stretch marks don't look red and angry. They're just there. I really feel like the Belly Balm is providing nourishment and moisture to help make the skin as elastic as is possible.
Kadria Belly Balm has a long list of ingredients, including Apricot kernel oil, Rosehip seed oil, olive oil, Thistle seed oil, Evening Primrose seed oil, shea butter, olive was, rosehip extract, calendula extract and vitamin E, as well as a plethora of essential oils all of which work together to make a luxurious, beautiful smelling belly balm.
My skin was glowing and spotless in my first pregnancy, but I've had no such luck this time round. I'm not sure if it was the 26 weeks of sickness, or just the cumulative effect of sleep deprivation and winter, but I've simply not had that same 'glow' this time round.
I've also found that my normal moisturising and beauty products haven't had much impact on my pregnant and winter skin problems.
T

he Balancing Face Oil from Kadria consists of Chia, Sunflower, Babassu, and Rosehip seed oils, and Evening Primrose, Blackseed, Olive, Borage and Olive oils, Vitamin E and a whole bunch of extracts and essential oils.
The base of it is Egyptian Blackseed oil which is apparently used as a healer for eczema and psoriasis in the middle east, and is said to be particularly good for maintaining skin function.
I have been applying it after a shower or bath, or after washing my face – usually times when the  water makes my skin feel taught and sore. Initially it felt odd, since it's an oil and not your 'usual' moisturiser consistency, but I have been really impressed by how it has moisturised especially the very dry skin around my nose. I still don't feel like I have the 'glow', but other people keep telling me I look well, so that can't be a bad thing.
Scent wise, the most obvious smell to me is rose geranium, which is a lovely and somewhat unusual aroma and again makes this feel like a supremely luxurious product.
The final two products are for the baby, and obviously I've not yet been able to use them on the baby, but have been using them for myself.
The Kadria Baby Body Oil is for use after your baby is two months old (despite popular advertising that xyz is safe 'from birth' health experts recommend using nothing but water on a baby's skin for the first few months to allow the natural oils to do their thing. ) The  oil has a gorgeous, gentle aroma, I can't quite place, and is incredibly moisturising. I use it on my hands and on my toddler and it's left my hands feeling soft and absolutely crack-free.  I'm definitely putting it away now, to try it on my baby – if only that he/she will smell like this. It's really beautiful.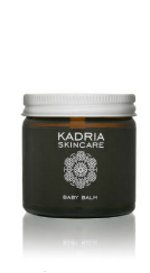 Finally, the Kadria Baby Balm is a very thick, very luscious creamy balm that can be used as a barrier cream. It has Sea Buckthorn in it which has anti-macrobal and anti-inflammatory, analgesic and regenerative properties, so ideal for staving off or healing nappy rash.
Additionally, it's a fantastic balm for dry skin. I've been using it on my own dry and cracked lips – it's a winter curse for me – and it has protected my lips from drying out, and the corners of my mouth from cracking. It's been a god-send during the winter dryness. And it lasts a really long time. I've been using it on and off for weeks now, and the only dent in it is where my daughter stuck her finger in the pot.
The Good
It's a lovely product, made of wonderful ingredients, and quite unique in many ways. I have used many different brands of similar variations on the theme, and this one uses oils and essences I've had to look up, rather than the run of the mill lavender and something. It's quite unique and definitely special. It also lasts a really long time and is good value for money.
The Bad
I don't have anything bad to say about the product, but it is quite pricey and there's only one size of each. They'd do well to do a 'tester-size' or a travel size in time for summer. And because they are unusual and unique ingredients, it would allow people to test a small sample for less. I know I'd be more inclined to buy a small amount of something new for less before going for the bigger version.
The Vinal Verdict
I love it. I think it's worth every penny.