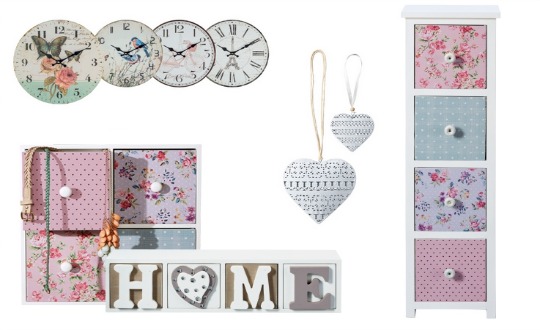 Is it me or are Lidl going for a Cath Kidston vibe here? From next Thursday 19th February they will be having some 'Stylish Home' deals in store, and I think they look bloomin gorgeous.
The flowery and spotty patterns are featured on Aprons (£2.49), a Pot Holder and Oven Glove Set (£2.49) and Padded Seat Cushions (£3.99, or 2 for £7). There are also Wall Clocks for £3.99, and Decorations at £2.99 each or 2 for £5. The decorations include hanging hearts, heart shaped wall hooks, vintage style photo frames, 'Home' wall letters and more.
By far my favourite are the storage drawers. There's a beautiful Chest Of Drawers for £19.99, a Small Drawer Set for £11.99, and the Mini Drawers with 'Home' on them are £8.99.
All these offers are in stores form Thursday 19th February, subject to availability.