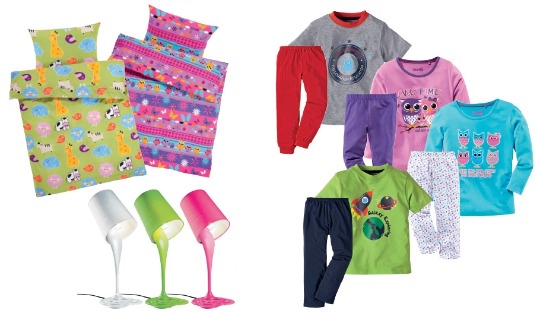 From next Thursday 19th February Lidl will again be doing some "Kids Corner" deals, and there are some amazing bargains as usual. There are Children's Pyjamas for £3.99,Duvet Cover Sets for £7.99, and 'Relaxation Cushions' for £4.99. They will also be selling Children's Storybook Collections at £2.99, and some really quirky table lamps that look like cups spilling drinks!
The Pyjamas have a choice of 6 different designs, and come in ages from 12 months to 6 years. The 'boys' are short sleeved long leg, and have a spacey theme. The 'girls' are long sleeved and long legged, and have owls and bird designs. For £3.99 these are a bit of a bargain.
There is a choice of 4 different patterns on the Duvet Cover Sets, all are single size and are £7.99 each. The even better news is that they are 100% cotton, which is not what you would expect for this price.
As always the deals are in stores only and are subject to availability. You can find details of your nearest store along with more information about all the Kids Corner offers.