Gyro Bowl For Kids NOW £4.57 Delivered @ Amazon Seller: Tcity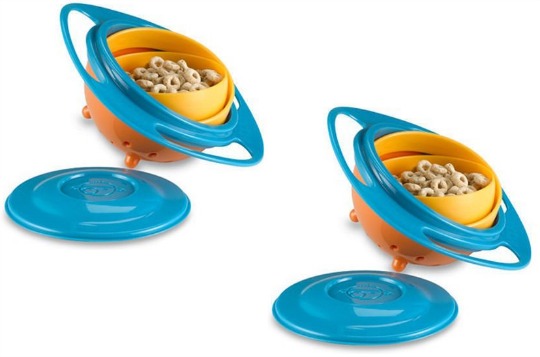 I LOVE, LOVE, LOVE the idea of the Gyro Bowl. My children spill everything, so to find something that is anti-spill (other than a cup of course) is a Godsend. Have you seen the advert for this? I was genuinely mesmerised by it. NOW £4.57 with FREE delivery at Amazon by seller: Tcity.
What is a Gyro Bowl? It's a bowl that can be used to store stationary bits and pieces like paper clips OR for eating snacks out of. The main selling point of this Gyro Bowl is that it is virtually spill proof and is aimed for using with toddlers.
The mechanism of this bowl kind of reminds me of a globe. It can rotate on it's axis, this makes it possible for the inner bowl to keep an upright position no matter how the who Gyro Bowl is held. Hope that makes sense!
It is dishwasher safe, but after reading reviews it would seem that the lid isn't so you might want to hand wash that. It has three handles that it can be held by.
My personal conclusion of this bowl is that it is a clever and wacky idea but I certainly wouldn't pay any more that £4 for one as it does have mixed reviews.