Gumigem Teething Necklace Review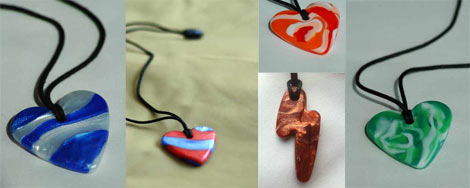 I don't wear jewellery very often, but when I do, my 1 year old baby always pulls and sucks at it, and this is especially true of when I wear a necklace. Some of my necklaces are quite fragile, and I worry that they might break, or beads would get swallowed, so I've started avoiding wearing them when baby is close enough to get her chops round them!
I got one of these teething necklaces from Gumigem. They were invented by a mum with a similar mindset to me, who wanted to wear something safe that her baby could still grab and chew if they wanted to. The Gumigem necklaces are made from a similar silicone material to that of most baby teethers.
I got a plain purple heart shaped necklace, but I see that there are loads of other fab colours to choose from too. I particularly like the Sea Sparkle (pictured top left).  I think these would make a nice gift for a new mum, they do a few combo sets as well.
My baby really likes to chew on the Gumigem necklace. When she first sunk her incisors into the necklace, she left quite deep marks which I thought were not going to fade away. But the material crept back into its own shape after a minute or so. I decided to bite the necklace myself to see what it was like - it's very tough and you wouldn't be able to bite a piece off it. The cord is a long, strong, string and unbreakable to baby, with a safe clasp at the top.
The Gumigem necklace actually sits on my office desk at home, and I pop it on from time to time when I am trying to keep the baby happy while still doing a little bit of one-handed work on the computer. She enjoys fiddling and biting it.
In conclusion, the Gumigem necklace is not the piece of jewellery I would reach for when going for a posh night out, but it is perfect for wearing during the day, when there's a baby hanging off my hip.