Garden Furniture & Flowers @ Lidl From Thurs 16th April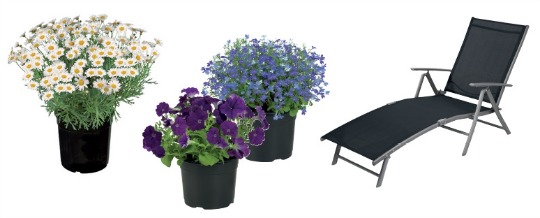 If your garden needs a spruce up then popping to Lidl from this Thursday could help you do it without splashing the cash. They have loads of deals for the garden, mainly garden furniture and plants and flowers, so you can get the place brightened up with some early flowering plants and then sit back to admire your handiwork.
The big sun loungers look very comfy, and are £39.99 each, or the stacking chairs are £29.99 each. They look like they will last a bit longer than those cheap plastic ones that keep featuring on You've Been Framed collapsing and throwing grandad into the pool.
I will be hoping to get some of the flowering plants, as just a few of the large ones in some of last years pots is about all I have time to do, but they brighten the place up no end. I love the Marguerite and get some every year (look Mum!), but my kids would love the strawberry hanging baskets and at £5 each I think I would to!
As always, Lidl's offers are in store only and are subject to availability. These "Relaxing Garden" and "Plants & Flowers" offers start on Thursday 16th April while stocks last.