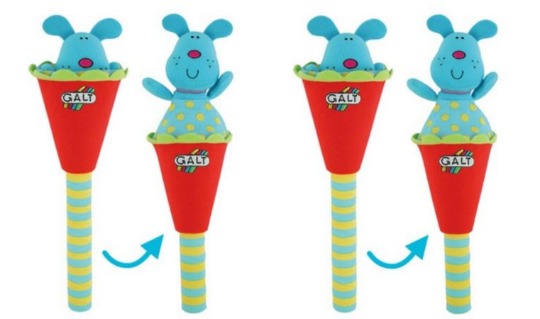 Playing peek-a-boo is something I did with all three of my boys when they were little babies. This lovely toy made by Galt, has the concept of the game but with the cute element of it being a soft doggy. I had a cow version of this for my middle child and it was great for getting giggles.  I like that it's not your hard plastic or wooden baby toy, and has a good old fashioned theme.
Simply by moving the stick up and down the gorgeous wee pooch puppet will appear and disappear infront of your tot's eyes.  Watch their bewildered faces as you repeat again, and again for their amusement.
This doggy toy has a bell and makes a crinkle sound too. It's only £3.49 from House of Fraser with free click and collect or you can opt to pick up from a free Collect+ point near you. However, if you'd prefer it delivered, it's £3.
Suitable from birth until 3 years old. This is sponge clean only.