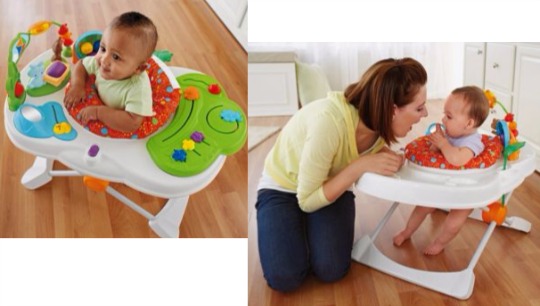 In the summer we eat out in the garden a LOT or even take a little picnic down to the local country park. This year we have a very active 15 month old toddler who wants to do anything but sit on his bum. What do you sit little ones in when you are outside? A good idea is the Fisher Price Play Around Snack Seat from Argos. It is reduced from £49.99 to just £24.99, which seems like a rather good deal.
The Fisher Price Play Around Snack Seat has a 4.8 star rating on the Argos site, which suggests it must be pretty good for the money. When baby is at a stage where they can sit up then this Snack Seat can accommodate your little one. Whether it's while they have a bite to eat or for somewhere for them to sit whilst you do the washing up.
Your baby will be able to rotate 360 degrees and has plenty to occupy them whilst sitting in this Fisher Price Snack Seat.
You can Reserve and Collect the Fisher Price Play Around Snack Seat for FREE from Argos or pay £3.95 for home delivery.