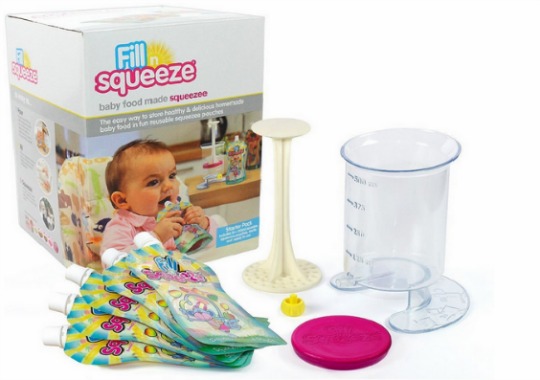 If you use baby food pouches like Ella's Kitchen or Aldi's Mamia then this deal might just pique your interest. The Fill N Squeeze Starter Pack is only £10 at Amazon just now and this is the cheapest we have ever seen it. It is a kit to make your own food pouches so think of the savings you could make using it when filling them with your own purees.
Making your own baby food has it advantages and we all know the pros of pre-made pouches. This Fill N Squeeze Starter Pack is a fusion of the two really. Make your own food so you know exactly what's in it and what's not, for those with allergies. Pop it into the pouches and then you have convenient feeding pouches that you can take out and about.
In this set you will get a 500ml Pouch Filler Jug, FIVE 150ml Squeezee Pouches, a Jug Cap and a Plunger/Masher.
You can have the Fill N Squeeze Starter Pack delivered for FREE if you have Amazon Prime or are spending £20 or more. Why not buy two? If you don't have AP and don't want to spend £20, then delivery costs £3.30.