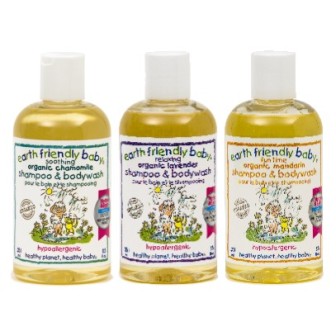 We're old friends of Earth Friendly Baby around here, having reviewed their Organic Mandarin Shampoo and BodyWash, Zingy Citrus Body Lotion, Minty Lavender Handwash before. They've recently sent us their Organic Lavender Shampoo and Bodywash* to try. I don't think it's a new product - just one we've not had before.
In the shampoo and body wash range they also have Organic Mandarin and Organic Chamomile. Earth Friendly baby claim that they have been "specially created to gently cleanse Baby's delicate hair and skin without leaving behind residue. We specifically chose Chamomile as a key ingredient, because for centuries, Chamomile has been used for its gentle healing properties – ideal for babies. We have added more organic plant oils to improve skin cleansing effect and give a refreshing scent."
As I said, we were testing the Lavender, which is a scent that's always appealed to us and we've regularly used the essential oil in the bath with our daughters. Given the soothing nature of lavender, it's recommended as particularly suited for children for whom bath-time is part of the bedtime routine, which certainly works for us.
The lavender extract is said to soothe and relax, and promote natural sleep. The chamomile option is ideal for particularly sensitive skin, while the invigorating mandarin variety is designed to energise your little one if you have a morning bath time routine.
Regardless of which variety you go for, Earth Friendly Baby products are formulated specifically with your child's skin in mind, using natural and organic ingredients that are suited to sensitive skin types.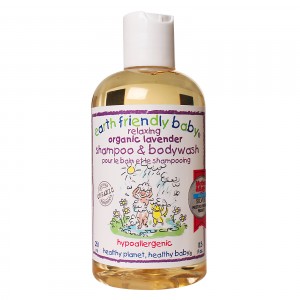 The 251ml (8.5fl oz) bottle is squat rather than tall, which is a well-thought out approach to design as it means the bottle isn't easily toppled, while the disc-top cap means it can be used one-handed, plus not going for a screw-top lid means there's no risk of the bottle falling in the bath with the lid off. When you're holding a squirming baby in one hand, and a bottle of shampoo in the other, this is a god-send.
While the shampoo and bodywash doesn't have the same room-filling fragrance of the essential oil- you wouldn't expect it to given that it's to be used on the skin - it does have a clear lavender scent, but it's a soft fragrance that's well suited to a bodywash.
With combination shampoo and bodywash products, the immediate concern that comes to mind is that trying to deliver both in a single bottle means you won't get the best of either.
In this case it's hard to find too much to criticise. As a body wash it's rich and creamy, quickly working into a soapy lather where a little goes a long way.
Use it as a shampoo and it's a little thicker than your typical shampoo, but that simply means you need to use less of it to wash your child's hair, which is hard to argue with. The end result was hair as clean, soft and fragrant as you could expect from a similar standalone shampoo, so I was happy enough with that.
Just a word of caution – Earth Friendly Baby shampoo and bodywash may be organic and use natural ingredients, but you're still advised to avoid contact with eyes (the usual advice is given if contact does occur, to rinse with warm running water).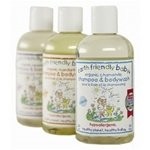 While touted as an organic and baby friendly product, it does contain a lot of hard to pronounce words, which is normally a turn off for me in a product, but in their defence, Earth Friendly Baby tell you what the words mean (they give the English names in brackets) and it seems there's a lot of plant product derivatives in the ingredients. It's worth testing it on a child with sensitive skin before submerging them in it. As a baby my oldest was sensitive to some of the Earth Friendly Baby products, but now she has no reaction to them, and my baby doesn't either. 

The Good
Lovely scent, that isn't overpowering
Good price
Lathers well and goes a long way
Easy to use packaging
The Bad
None that stand out, really.
The Verdict
It's a good product, lovely for babies and better for them than must 'mainstream' products. Even my husband has been know to have a faint smell of Lavender in his hair when he's reached for this as a shampoo in the shower.