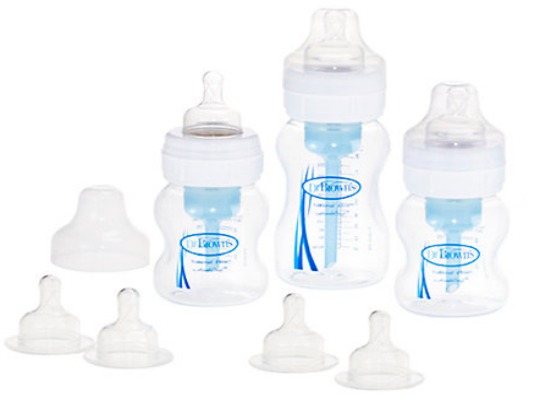 I have friends that rave about Dr Brown's Baby Feeding Bottles but the price of them always put me off using them. They tend to cost £££'s in comparison to Avent and Tommee Tippee. Shop around though and you can get your hands on them at a cut down price. The Dr Brown's Natural Flow Starter Kit has been reduced from £19.99 to £13.49 at Argos, and Amazon have kindly price matched.
What do you get in the Dr Brown's Natural Flow Starter Kit? Quite an impressive amount of feeding equipment: one 240ml Wide Neck Bottle, two 120ml Wide Neck Bottles, the Teats that come on those THREE Bottles which are Level One, two Level Two Teats, two Level Three Teats and a Vent Cleaning Brush.
I think for bottles made by a company with such a reputation, this Natural Flow Starter Kit is a great buy. Many parents buy these for there anti-colic qualities but I cannot vouch for that as I have never used this brand.
You can reserve and collect this Dr Brown's Bottle Set for FREE from your nearest Argos store should you choose to purchase from them, if you want home delivery opt for Amazon, whoo deliver this for FREE.