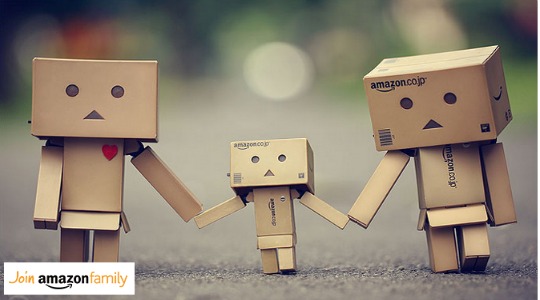 You may hear us harping on about Amazon Family this, Amazon Prime that. As "seasoned" money savers, we can tell you we bleat about it for good reason.
You can get a FREE 30 Day Trial, which means in that period you can benefit from unlimited One-Day Delivery and access the deals on Amazon Prime Day.
You can save 20% on Nappy Subscriptions*. Amazon tend to price match the big guns like Tesco, Boots and so on. The chances are you are getting the better deal as it is, plus that extra 20% off for being an Amazon Prime member.
You will have access to Amazon Prime Day. That is TOMORROW! Amazon are promising to have more deals than they had on Black Friday. They have been advertising it like mad on TV, so we reckon this alone could be good enough reason to sign up.
Access to super duper discount vouchers*. For example, Amazon are offering £5 off this Baby Elegance Moses Basket Bale*, making it just £4.45 delivered for Amazon Prime members.
You can split your annual membership  five ways to save on the annual cost of Amazon Prime Membership, meaning you will only have to pay around £16 each. You can read more on how to do that, here.
FREE UNLIMITED One-Day Delivery. If you like to shop at Amazon, then this reason alone is worth signing up to Amazon Prime. All those items under the £20 mark, that you can have delivered for FREE.
Discount codes like this "£15 off when you spend £60" ones! Sign up to Amazon Family/Prime and you can use the promo code BABYFMLY15 when spending £60 or more in the Amazon Baby Store. That means you can pick up bargains like this Motorola MBP36S Digital Video Baby Monitor* for £103.16 delivered. More details about that promo code, can be found here. A tip.... USE IT TOMORROW ON THOSE AMAZON PRIME DEALS IF YOU CAN! Think of the savings....£££'s!
As you can see, there are many reasons and ways to save money with Amazon Prime/Family. We are fans of it for it's money-saving perks and it can turn an item into an absolute steal, as you may be able to use a voucher or code (exclusive to AP members) and you won't have to pay for delivery.
Don't forget that tomorrow is Amazon Prime Day so get signing up to that FREE 30 Day Trial if you want access to those special deals!