Cosatto 3Sixti High Chair £66 @ Boots.com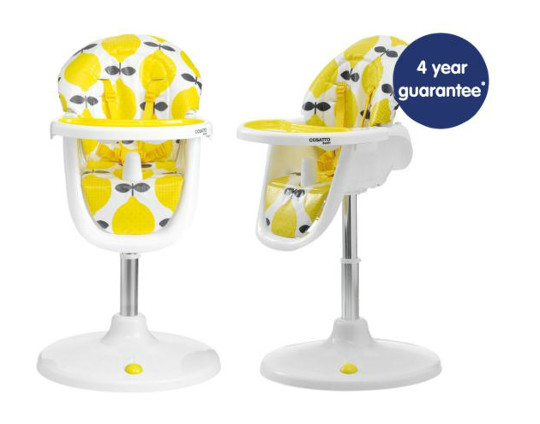 Boots.com have a fantastic offer on the Cosatto 3Sixti High Chair  in Lemon. They are selling it for £66, instead of £165. It's currently still £165 at Mothercare and is on sale at Kiddicare for £125, so this is a whopping good price.
The Cosatto 3 SIXTI high chair has a 6 position and 360° seat unit and a removable table section. It is apparently easy to adjust, turning full-circle to allow easy feeding in any situation. It has a gas lift height adjustment that means you can reach your little one from any position.
This chair is suitable from six months (or I suppose sitting up unaided?), and goes down to 45cm and up to 62cm. It's quite heavy at 13.2kg so shouldn't be too easy to topple over when not in use. 
The back rest has three positions, and the foot positions alter with the seat height 6 position 360° swivel for up-to-the-table feeding. 
It has a 5-point safety harness, and a super compact base for a small footprint. There's a removable tray, which is dishwasher safe, as well as a removable, wipe-clean comfy padded cushion.
If you register your Cosatto 3Sixti Circle high chair within 28 days, it has a four year guarantee too.