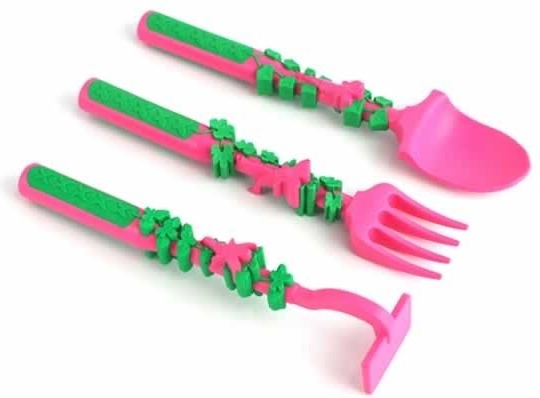 I love the Constructive Eating Sets for kids and this Fairy Garden Set is a bit of a bargain I think at £5.99 with free delivery. (You can also click and collect free at your local Argos if you'd prefer that but I'd opt for the home delivery personally)
Remember we posted the Digger Constructive Eating Set over at Amazon?* Well, this is the version aimed at girls I guess. Personally though if I had a son who wanted this or a daughter who wanted the digger, it wouldn't be an issue. At £5.99 delivered though, this is around a third of the price.
While some people may not believe in children "playing" with their food, how many of us can honestly say we've never made Choo-Choo noises? Personally I think anything that works and encourages little ones to feed themselves and make mealtimes an enjoyable experience is to be encouraged.
Each utensil in this set is based on a tool used in the garden and perched on each handle is a garden fairy. Each fairy has been given a name and personality. The garden rake fork, garden shovel spoon and garden hoe pusher "are designed with function and play in mind."
At £5.99 with free delivery I think little ones would love these, what do you think?