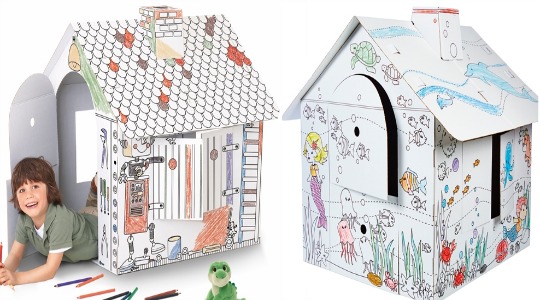 Lidl have offers on gifts starting today that include some great kids toys. The Playtive Junior Colour In Playhouse is one I'm hoping they have left in our local store as at £7.99 I think it's a fantastic bargain, and I'm sure both my kids would love it.
It's made from tough corrugated cardboard and has two pre-cut doors and windows in it. It looks from the website like there are two different designs, one looks like a work shed with some robot builders to colour in, and the other looks like an underwater scene with fish and mermaids.
A quick internet search shows that Colour In Playhouses are usually upwards of £15, so this looks like a great price.
This could be a cheap way to keep the kids entertained while you're busy wrapping presents, ordering shopping, writing Christmas cards and all the other jobs that you have to add to your list every December. This playhouse costs less than buying two of the magazines with cheap plastic toys that my son is always asking for, and will keep him busy for a lot longer as well.
Lidl offers are in store only, but on the website you can select your store to view the offers they have in your local branch.