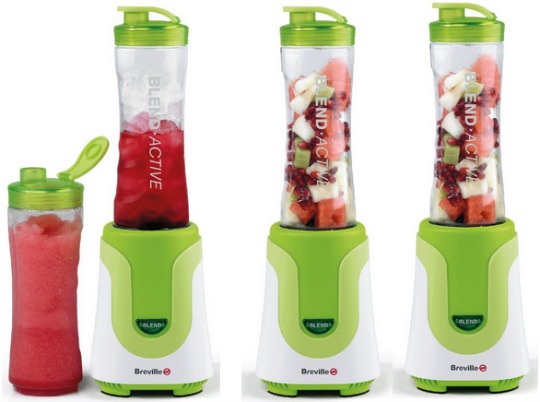 Whether you like your smoothies or shakes, this Breville Blend Active Personal Blender is the kitchen appliance to have. It's aimed at blitzing ingredients and making them into delicious thick shakes, soups or smoothies. What do I use mine for? Frozen cocktails. My best friend uses hers hers to puree fruits andd vegetables for her bambino. This is the business for those Frozen Strawberry Daiquiris. Grab yours from Amazon just now for just £20 with FREE Super Saver delivery.
Blenders can be big cumbersome items that hog valuable worktop space in the kitchen and often end up shoved away in a cupboard. Chances are you don't need to make a big vat of strawberry and banana smoothie but just one drinkable bottle size amount.
The Breville Blend-Active Personal Blender is capable of making one bottle at a time of whatever drink you choose, mine's is a frozen Mojito thanks! The beauty of this blender is that you don't have to decant the contents into a sports bottle because it's already in one. The blender comes with two bottles and I am pretty sure you can buy more if need be. The bottle attaches to the blades and blender unit and is removed to takeaway.
The reviews speak for themselves really, this has a four and a half star rating too.
Thanks to davewave @ HUKD