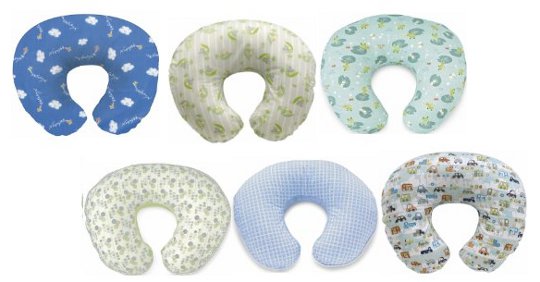 Amazon have a sale on eight Boppy Pillows at the moment, with prices ranging from £5.15 on separate covers to £46.79 for the most expensive pillow with cover.
I haven't personally tried one of these, but they do look pretty sturdy and donut like, and who can dislike a donut?  The pillows range in price from the cheapest at £31.65 to the most expensive at £46.79 and the covers range in price from £5.15 to £8.99.
The latter, the Teddy Bears Boppy Pillow with Velour Slipcover,is £46.79 at Amazon, reduced from £49.99 – s o just a 6% price cut. The feeding pillow is a 'snug and secure fit that adapts to the shape of every mum.' It can be machine washed and dried and the slipcover is soft velour on the one side and cotton on the other.
The other end of the scale has the Kites Boppy Cotton Slipcover which has been reduced from £12.99 to £5.15, a 60% saving. This fits the Boppy feeding pillow, obviously, and is made of cotton.
You could, for example, get theCrazy Cars Pillow and Cover for £37.17 instead of £49.99 and add a spare pillow to it or just enjoy the cheaper price on the pillow itself.