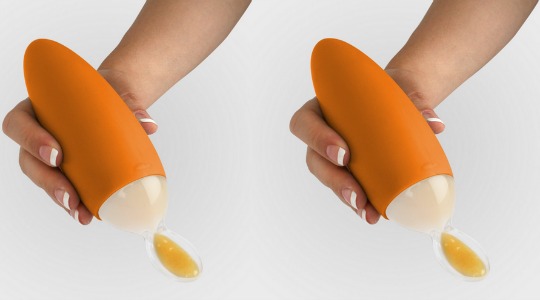 I can't figure out whether I think this Boon Squirt Baby Dispensing Spoon is genius or the height of laziness. Baby spoons can come in many novelty designs but I have never seen one as fancy as this Boon Squirt one. It actually dispenses the food for you. Reputable Amazon Seller, Baby Security, are selling the Boon Squirt Baby Food Dispensing Spoon in Orange for only £6.98 including FREE delivery. This is cheaper than most places that sell this rather unusual baby feeding tool.
I guess you could argue that with using this spoon that you are not teaching your baby who to feed themselves correctly.  The Boon Squirt Baby Food Dispensing Spoon works by squeezing out baby food one bite at a time. It can take up to 85g of mush at a time. Pop the ca on the spoon to store any unused food.
You give it some gentle pressure and out pops some food to put into baby's mouth. I guess the idea is to prevent mess but I don;t think the mess happens when you stick the spoon into a jar or bowl. I would say it's when baby spits it all out.
If you have Amazon Prime, you may be better of with this Nuby Garden Fresh Squeeze Feeder* for £4.99. Delivery is £3.30 for those of you that haven't got AP.