New Baby Bath Bundle £25.00 @ Green People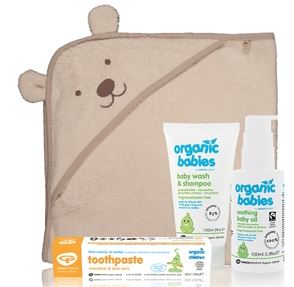 Green People have a new bundle for 2014, perfect for new arrivals this year. The New Baby Bath Bundle is selling at £25, rather than the sum of its parts which would work out at  £45.70. The Hooded Towel alone is worth £24.
This new baby bath bandle consists of a 100% organic cotton Frugi hooded towel, Scent Free Baby Wash for natural bubbles, Scent Free Baby Oil for a soothing baby massage and s Mandarin Toothpaste, perfect as teething begins, or even for cleaning gums.
There are only 80 of these bundles available and the offer will obviously only be on as long as stocks last.
Organic Babies - the Green People brand for babies - is dedicated to offering beautiful skin-kind products, which they have been doing for over a decade. Gentle and certified organic these are the purest, natural products for baby - and so much better for young skins than chemical laden products.