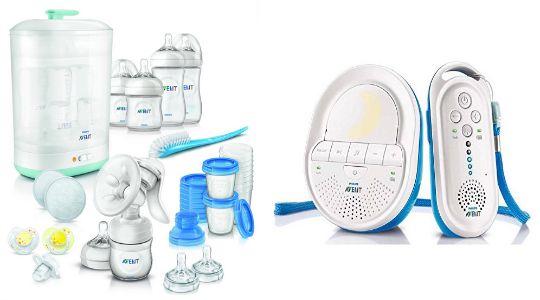 Are you expecting or know someone who is? It's worth heading over to Amazon today where they have up to 50% off Philips Avent Baby Products as part of their 'Deal of the Day'. There are some bargains to be had, and it's not often you see this brand so cheap. Normally, it's Tommee Tippee that gets heavily discounted, so make the most of it for TODAY ONLY! Spending £60 or more? Why not sign up for the FREE trial to Amazon Family and use promo code BABYFMLY15and save yourself an extra £15?
Here are the bargains that caught my eye in Amazon's Avent Baby Products Deal of the Day:
Philips Avent Breasfeeding Starter Set* now £59.99, if you want to use that promo code bump up your order with a baby item costing 1p or more like this Esska Duck Bottle*.
Philips AVENT DECT Baby Monitor SCD505/01 with Light and Lullabies*are now only £24.99 delivered. This would cost you around £70 if bought elsewhere.
There are many more items that are at great prices so if you are looking for a steriliser, some bottles or monitors, go and have a look.
Delivery is FREE on any of the items if you have Amazon Prime or if you spend £20 or more. If you wish to spend under £20 and don't have Amazon Prime then delivery will cost you £3.30.