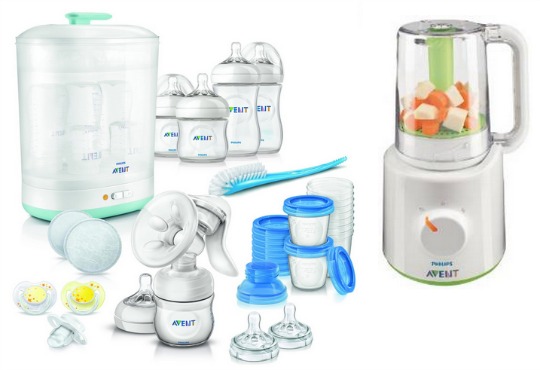 If you are pregnant or know someone is, buying all the equipment that goes with having a baby can prove very expensive. The Amazon Deal of the Day today is Up to 50% Off Selected Philips Avent Baby Products, so this might help you out with the baby feeding side of things. Avent is generally quite pricey so this is a good deal on the seven items included.
There's a couple of outstanding buys in this Philips Avent Deal of the Day. The Philips Avent Breastfeeding Starter Set* is just £59.99 with FREE delivery. This is such a great buy. It's £75 in the sale at Mothercare, so you can appreciate this is a bargain.
Not only is it does it contain an Avent Steriliser but an Avent Breast Pump, two 9oz/260ml Natural Feeding Bottles, three 4oz/125ml Natural Feeding Bottle, three Newborn Natural Teats 0m+, two Slow Flow Natural Teats 1m+, two Medium Flow Natural Teats 3m+, ten Breast Milk Containers with Lids, two Breast Milk Container Adaptors, Washable Breast Pads (one pair), a Newborn Soother, two Night time Soothers and an Bottle and Teat Brush.
There are other items in this Deal of the Day too which is are great: The Philips Avent 2 in 1 Electric Steam Steriliser* is a good price at £19.99.