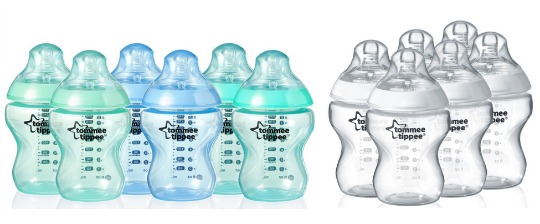 Tommee Tippee are one of the best selling baby brands, and if you need some new bottles then Amazon have the best price around by far at the moment. You can get 6 packs of the 260ml bottles for £10 with Free Super Saver Delivery!
You can choose from either the clear bottles or the 'Colour My World' green and blue pack at this price, and it's just a matter of personal preference I think. The pink ones will set you back £19.85, so I'm guessing they won't be selling many of those ones.
Remember that if you are buying lots of baby items from Amazon you can sign up for a free trial of Amazon Family, and then you are able to use the voucher code BABYFMLY15 to get £15 off a £60 spend.