3 Bundle Item 20% Off @ Mama Design Ltd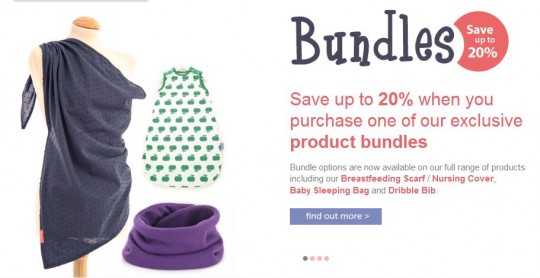 You may have heard of Mamascarf? They've been around for a while and we've had special offers from them in the past, but owner Keira has branched out and is now Mama Design Ltd, and selling a variety of different practical items for mums and babies.  MDL have put together a bundle which, when you purchase three items together, you get 20% off the individual prices.
The bundle includes any Mamascarf® discreet breastfeeding cover, any Babasac® multi tog baby sleeping bag and any Snoodie® dribble bib.
The Mamascarf is a 100% cotton and machine washable at 30 degrees, one size fits all, easy to use and stylish feeding cover, ideal for the early days of breastfeeding, or for those mothers who want to use one for their own comfort, or to prevent baby from being distracted during nursing.
The Babsac has a zip that finishes at bottom for easy night changes. It is both a summer weight and a winter weight sleeping bag at 2.5 and 1.0 tog. It is fully tested to British Safety standards BS8510:2009 and has 100% cotton in and outer linings.  It's also available in three sizes, which is really nice if you're looking for a babyshower gift that'll last longer than the first three months.
Finally, the Snoodie is a stylish and practical dribble bib with an inner absorbent layer and double popper for adjustable sizing.
All three together are  £51.94 instead of the individual prices of £62.93.