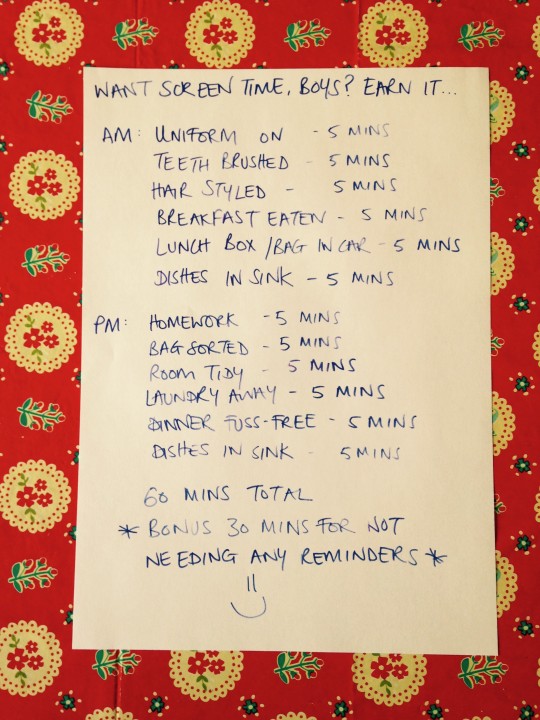 I don't know about you, but school mornings are pretty much bedlam in my house. It doesn't matter what lengths I go to to make it easy for my kids to get themselves ready for school, they will always, ALWAYS find a way to disrupt the process and create anarchy.
But this week I finally cracked under the strain, and ended up sharing this on my Facebook page:
"I must be doing this wrong. Thirty solid minutes of repetitive, spirit-sapping instructions (to do the same basic tasks as required Every.Single.Day), ten minutes of shouting, two time outs for some sort of insane bathroom high jinks, and STILL one set of teeth remains unbrushed. Yesterday it was a forgotten lunch box. Is it just my house? Boys? HOW TO MAKE THIS LESS HEART-ATTACK INDUCING?"
What surprised me was how quickly responses flooded in from my friends, all of them feeling my pain.
"I sound like some maniacal sergeant-major, barking the same order over and over, in increasingly frustrated tones, as space cadets 1 and 2 circle Mars," wrote one friend, about the school morning routine in his house.

Another added:
"I thought it was just me! This morning's highlights included 'WHY DO I HAVE TO PROMPT YOU TO BRUSH YOUR TEETH AND WASH YOUR FACE WHEN YOU HAVE BEEN DOING THESE THINGS INDEPENDENTLY FOR OVER TWO YEARS NOW. 800 DAYS. 800 DAYS IN A ROW AND I STILL HAVE TO TELL YOU, BUT YOU CAN REMEMBER THAT I FORGOT TO GIVE YOU A BIRTHDAY CARD??!!!'"
It's not just that all kids are a bit chaotic in the mornings, either. It seems mums and dads up and down the country are yelling at their kids about the very same issues every morning. In fact, the most common cause of a parental meltdown on a school morning seems to boil down to just one thing. Well, two, to be exact:
"Every day in our house: 'Shoes. Shoes! Shoes!! SHOES!!! WHERE. ARE. YOUR. SHOES," despaired another friend.

But my fave comeback came from a friend who doesn't yet have kids:
"I shout all these things to myself (particularly what one person said above re: SHOES SHOES) a hundred times every day before I leave for work. I still forget my lunch or my keys or something else I needed that day. I'm a girl and I'll be 37 in December. Does that help?"
I felt comforted to know that I'm not in this boat alone, I did, but what I really wanted from my fellow sufferers was some pearls of wisdom about how to make it all less stressful. Because short of actually putting my kids to bed fully clothed in tomorrow's uniform with a cereal bowl in one hand and their shoes in the other, I just can't figure out how to bypass the endlessly repetitive misery of my mornings, and somehow make them stress-free.
In the end, I took comfort from something another friend shared. Call it tough love, if you will:
"I really did used to be a shouty sergeant, and a troop of soldiers is easier than getting two children out of the house of a morning. I did sometimes take one or both to kindergarten / school in PJs with unbrushed teeth and/or hair, or with two bananas and a lump of cheese for lunch. I called it 'learning to accept consequences' and the teachers were mostly on board with that."
However, I don't mind admitting that I lack the nerve to follow through on that kind of approach. I'd be at the school gates with their clothes and a home-made lunch begging for forgiveness within minutes of dropping them off in the morning.
So here's my solution. I drew up a chart of the tasks that my kids need to complete each morning and every evening in order to smooth our transition from home to school and back again. I've assigned them a 'reward' of 5 minutes of screen time for every single task completed, up to a maximum of 1 hour of screen time per day, with a bonus 30 minutes if they complete all their tasks without any reminders from me (like that's ever actually going to happen).
And guess what? Two mornings in, I can happily report that it actually works. Really. So it seems bribery is the secret to all parenting conundrums after all.
Want to make mornings less stressful in your house, too? Try it, and let me know how you get on...