If you're looking for a book for a pressie for someone special, or just as a little indulgence for yourself, Octopus Publishing has some treats in store for you. So some of the PlayPennies team took it upon themselves to those treats on behalf of PlayPennies parents, and here's our verdict...
Now this really was a treat. I'm a huge fan of recipe books and love reading them in bed almost as much as I love cooking from them. There's something deliciously comforting about reading recipes when you're at your most relaxed - and this book of 200 cupcake recipes was the ultimate indulgence.
At just £4.99 it's a huge bargain - and works out as the equivalent of paying a couple of pence per recipe! The recipes are astonishingly varied, and split helpfully into categories covering everyday cupcakes (I love the thought of cupcakes as a daily occurence!), chocolate cupcakes, cupcakes for kids, savoury cupcakes and cupcakes for special occasions. In fact, what this book doesn't cover when it comes to cupcakes probably isn't worth knowing.
There's a helpful introduction to baking cupcakes with loads of practical hints and tips for doing so, as well as recipes for three different kinds of frosting and information about various different decoration options.
The savoury recipes are especially yum - I've never tried any of them before, or even heard of them in fact, and I can't wait to try out the spicy cheese and parsnip muffins or the parmesan and pancetta cupcakes.The goat's cheese and tomato cakes and the red pepper pine nut cupcakes look amazing too, and the photographs are so vivid that I swear I thought I could smell freshly baked cupcake feasts as I was reading.
I really like the fact that every single recipe is accompanied by a photograph. I hate attempting a new recipe with no idea of what I'm aiming at in terms of how it should look, and the recipes seem to come alive in the stunning pictures. My children also adore this book and can leaf through looking at the pictures in amazement for ages. Any recipe book that gets little boys enthusing about food is a winner, in my book.
All the recipes seem straightforward - there's nothing terrifying about any of them, and most of them have a preparation time of between 15 and 34 minutes, with a similar cooking time.
Every single recipe ends with an alternative option too, so if you want to try one particular cupcake, like the chocolate peanut cupcakes but are worried about peanut allergies, you can opt for the alternative chocolate jaffa cupcakes.
For me this is an indispensable addition to my recipe book collection, and one that I know will be seriously well-thumbed in no time. This is an impressively comprehensive book and one I expected to be twice the price that it is. Even if it were a tenner or more, I'd still consider it good value, and money well spent.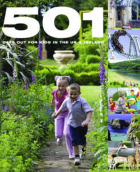 Tamsin sampled 501 Days Out for Kids in the UK & Ireland and had this to say:
"The book is really bulky and heavy so it's definitely not for taking with you on your great adventures across the UK and Ireland. I didn't like the fact that the contents page didn't have page numbers allocated for each county. It simply says England or Wales or Ireland. So if you live in Essex then you have to either thumb through the book or locate the relevant region in the index. Not exactly a major chore, I know, but it would have been nice to instantly find the area I wanted."
On the upside, Tamsin says the book comes with a clever key that breaks adventures down into recognisable formats such as a Sun icon for "best enjoyed on a fine day" or a 365 icon for "these days can be enjoyed at any time of the year."  This met with her approval; "Considering that I'm often struggling with a place to take my daughter when its pouring with rain outside, the fact that the book has plenty of indoor related activities at decent prices is a good thing. Certainly there are a ton of places in my area that I didn't know about, and many of them are for free. I also think that the fact that they tell you what kind of costs you're looking at, what not to miss, the best time to go and what you should know about the area is a big plus."
At £9.99 Tamsin felt this book was well worth the price for all the free days out to be found, and she also liked that the book thinks ahead on your behalf; "Oh, and the fact that they always tell you how much walking you can expect - especially important for parents who don't relish the idea of carrying their offspring for miles and miles. It definitely has thought of what you need to plan ahead."
Tamsin also reviewed Lorraine Kelly On Looking Great. Here's her verdict: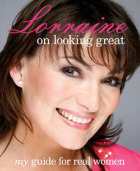 "She won me over because she wasn't skinny. Thank you! I am heartily fed up with starving women telling me how to look beautiful. The book is broken down into sections such as healthy eating, exercise, looking great and staying healthy. "
"The first section has detailed information on what vitamins do, which ones do what and why, as well as their sources. You also get info on superfoods, bad foods and more. I like the recipes such as buckwheat pancakes and baked apples. Healthy and yummy - my kind of food."
"She also has a diet plan along with advice on how to formulate your own. They did get a skinny bint to do the exercise photos - pah. The exercises are clearly explained but obvious, for me anyway. I think that most women would have read these elsewhere and they aren't really essential. However, as a complete package book they are a good extra. It seems to cover all the bases for anyone wanting to start out on a new healthy regime."
So there you are. Lots of lovely inspiration for your book shopping. On that note I'm off to bake some strawberry marguerita cupcakes, complete with tequila. Cheers!