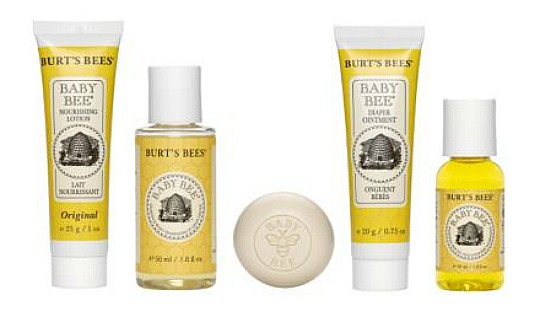 A lovely friend recently gave me the Burt's Bees Getting Started Kit (available for £13.29 from Boots) as a new baby gift, and I feel compelled to tell you all about its wondrousness.
It's a gift pack of sample sized items for cleansing, nourishing and soothing sensitive baby skin.
Included in this set is:
Shampoo & Wash - Billed as gentle enough for everyday use.
Nourishing Lotion - a creamy, quick-absorbing body lotion made from natural ingredients including real Beeswax, Sunflower Seed Oil and Shea Butter.
Buttermilk Soap - French-milled soap, gentle enough for everyday use.
Nourishing Baby Oil - Naturally rich in antioxidant and vitamins, this nourishing oil is specially formulated with Apricot and Grape Seed Oils to nourish and moisturize baby's skin.
Diaper Ointment - It's meant to nourish and reconditions skin while creating an emollient layer to seal out wetness.
I think this makes a perfect gift for a new baby - it's tough to find a decent little present for less than £15 but as well as being affordable and representing good value for money, this is practical too. And you can only use so many cute but ridiculously impractical pairs of newborn baby shoes, after all.
There's something a bit special about Burt's Bees products too. Perhaps because they're a bit pricier than other baby toiletries they're not the sort of thing I'd normally buy myself, so using them on my baby feels a bit luxurious. It's the difference between having a bath in your posh birthday bath oil and using a bar of soap.
The baby oil and lotion are great to use for baby massage too, so as well as being a practical gift this also helped me create some lovely bonding moments with my baby.
Overall if you're looking for a little something to spoil a new baby with, this is just perfect. There's only one problem. Once the sample sizes run out it's hard to resist the urge to replace them with full-sized versions of them.