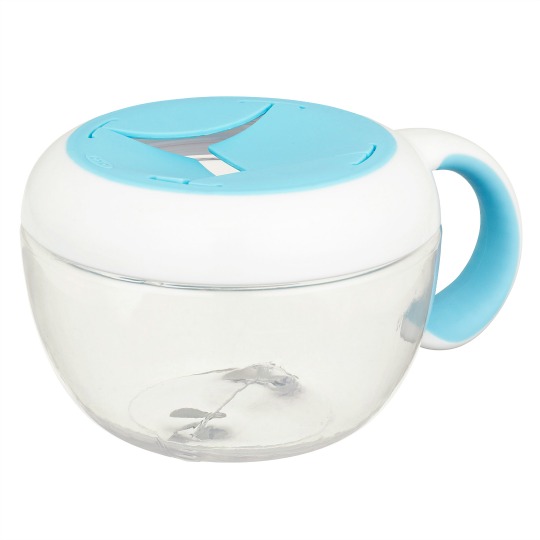 This is a clever little thing. The Flippy Snack Cup is the latest addition to US brand OXO Tot's award-winning collection of feeding and weaning products - they also sell over 200 tools for the home under the Good Grips brand including kitchenware, organisational tools, bathroom and cleaning products.
It's basically a little cup with a clever design that allows little fingers in to access snacks, at the same time as preventing spills. The twist-on lid stays firmly attached if the cup is dropped or even thrown, and it comes with a snap-on removable cover to help keep snacks fresh and secure during transit. A soft non-slip handle gives little hands a firm grip on their goodies, while a generous 235ml allows for plenty of room for favourite snacks.
Free from BPA, phthalate and PVC, the Flippy Snack Cup comes in shades of aqua, green or raspberry, and is suitable from 12 months plus. It costs £6.00, and the OXO Tot range is available from John Lewis, Kiddicare, Mothercare, Boots and www.amazon.co.uk. For stockist details visit www.oxouk.com.
This is one of those baby products that makes you wonder how on earth you ever managed without one - the toddler I tested it on adored it, and I'm happy to report that the Flippy Snack Cup withstood being dropped and even launched across the kitchen. It's great for encouraging independence as you can hand a cup of snacks to your child and let them loose, without worrying that you're going to be finding strawberries strewn around the sofa or a trail of Cheerios spilled all over the floor.