According to USA Today, Nicole Kidman is finding life on the road with her 17 month old daughter, Sunday Rose, isn't exactly a walk in the park.
Nicole is married to country singing legend Keith Urban and takes to the road to support him on tour.
"It's harder now to pack her up," Nicole is reported to have said. "When they're 6 weeks, they're easier to travel with. And you're breastfeeding, so it's easy to feed."
I have to agree, Nicole. Having made a several-hundred mile cross-country car trip en famille today, I too looked back wistfully to the days when travelling meant strapping the kid in a sling and packing a couple of nappies and a packet of wipes. Happy days.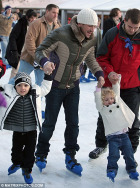 Talking of Happy Days, Peter Andre has been papped again spending time with his kids. I can't decide whether or not to be cynical about how the press just happen to be around whenever he treats his kids to a day out. Is this all a pre-arranged attempt to boost his profile and win public support following his divorce from Katie Price? Or is he really just your average Dad trying to spend time with his kids and putting up with the press following his every move. Hard to say. What do you think?