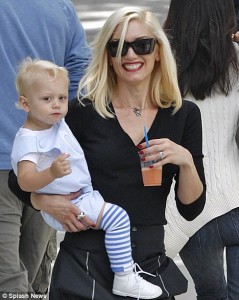 Check out Gwen Stefani's groovily-attired youngest son, Zuma Rossdale!
Gwen was pictured along with husband Gavin Rossdale and sons Zuma and Kingston as they strolled to a friend's house in Malibu on Easter Sunday.
Both boys wore bunny-themed outfits but it's little Zuma's funky legwarmers that caught my attention.
As a Mum to two boys I've often considered resorting to tights on chilly days but thought better of it. They seem such a funky and handy option for girls and there doesn't seem to be an alternative for boys but maybe baby legwarmers are the way to go!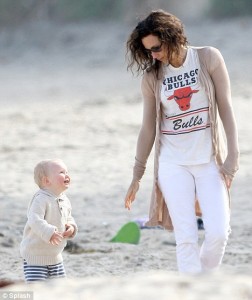 Minnie Driver's son Henry has no need for legwarmers this Easter weekend, as he was pictured playing on a Malibu beach with his celeb Mum.
The papers are speculating that Minnie was taking her mind off the box-office flop of her latest movie, Motherhood, which tells the story of a stressed mum struggling to juggle raising her family with a writing career. According to the Daily Mail it was reportedly watched by only one person on its opening day, making only £9, and  "over the entire opening weekend, no more than 12 people went to see the film, which cost $5million to make". Disappointing though that must be, I reckon Minnie has better things to do than worry about that when she has such a happy little beach dude for a companion.