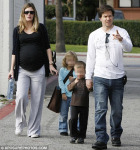 Well we kicked off the year here on the Play Pennies CELEBABY page wondering if the the sleb world had given up procreating for 2010 but suddenly we can't move for famous folk and their impending offspring.
A-Lister Mark Wahlberg has become a father for the fourth time. His wife, model Rhea Durham, gave birth to a baby girl in Los Angeles earlier this week. In decidely un-slebby style, the happy parents have named their daughter Grace Margaret, and her brothers and sisters Ella, Michael and Brendan are said to be very excited about the new arrival.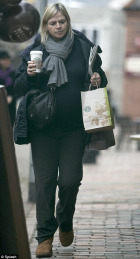 Meanwhile back in Blighty, Zoe Ball is expecting number 2 any day now, a sibling for big brother Woody. I'm guessing Buzz is out of the equation as a name if it's another boy?
Zoe and DJ hubby Norman Cook have made no secret of the fact that falling pregnant didn't come easy to them but Zoe credits the fact that they both gave up alcohol as having helped. She's clearly still on the Starbucks though, and quite right. I hope that's a mocha with extra whipped cream because that stage of pregnancy isn't exactly a barrel of laughs.
Zoe reckons she's been eating everything in sight during this pregnancy and it's so refreshing to hear a celebrity admit that pregnancy is like that. It's not all pilates and steamed spinach. Lots of luck to Zoe and Norm and the little big brother-to-be.