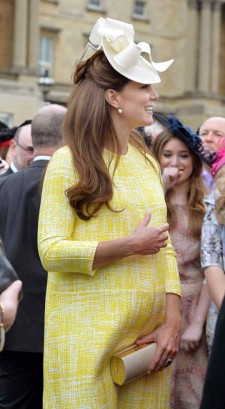 Don't hate me, but I have to talk to you about KMiddy.
As Royal baby fever grips the nation (ok, well maybe just preoccupies the tabloid press then...), it's only fitting that we take a moment to focus on the imminent arrival of the newest little Prince or Princess on the block, who will be fourth in line to the throne.
According to the Daily Mail, plans for the Royal babe's arrival have been "drawn up with military precision", and of all the nonsense circulating about the Duke and Duchess of Cambridge's new addition, my favourite is the 'news' (yes, I use that word lightly...) that the playlist for Kate's delivery suite includes "James Blunt type stuff" along with some classical music and "some Ellie Goulding" in a bid to remain relaxed during her labour and delivery.
Apparently Kate believes that playing music to your unborn baby and after birth can have an impact on a child's intelligence.
All of which begs the question, did you have a delivery room playlist? Speaking personally, anything by Maroon 5 will always bring a lump to my throat following the arrival of my firstborn, but after that there was barely time to get to the hospital, never mind set up my iPod.
Go on, share your delivery room playlist with us, and the lasting memories it inspired. We'd love to know...