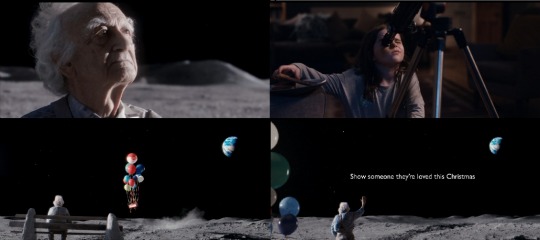 Few things say 'Christmas' quite like the John Lewis Christmas advert and today's the day - it's finally been revealed!
Arguably the most hotly-anticipated Christmas advert of all the major retailers, the John Lewis Christmas ad has set the bar for Christmas adverts.
At 8am, John Lewis took to Twitter, creating a special The Moon account and the #ManOnTheMoon hashtag to share the 2015 John Lewis Christmas advert with us, and it doesn't disappoint.
Tearjerker? OH MY DAYS, is it ever. Still sobbing.
Last year Monty the Penguin merchandise sold out online at John Lewis within hours of the ad's appearance and was listed on eBay at mark-ups of more than 400pc. So who's buying up all the official John Lewis Man on the Moon Christmas advert merch and hoping to make a few quid this year?!
You can click here to shop the advert! My kid's already spotted this weirdly familiar telescope and the spy glass although they don't seem to be part of the official merchandise.
We love these #ManOnTheMoon items:
This year, the ad features the Man in the Moon and its tag line is 'Make someone feel loved this Christmas' which is just what the little girl does. *Sniff*
As widely predicted, the John Lewis Christmas ad theme song is the Oasis track Half the World Away, sung by 19-year-old Norwegian singer Aurora.
John Lewis is also partnering with Age UK to help some of the million older people who regularly go for up to a month without speaking to anyone. Throughout November and December, the retailer will be supporting Age UK in a number of ways, including in store and online activity, a text to donate mechanism and through the sales of selected Christmas merchandise. You'll be able to buy Christmas cards too, with 25% of the price going to AGE UK.
Check out this adorable Man on the Moon poster and there's even an app which can apparently bring the poster to life!
Click here to watch to John Lewis 2015 Christmas advert.