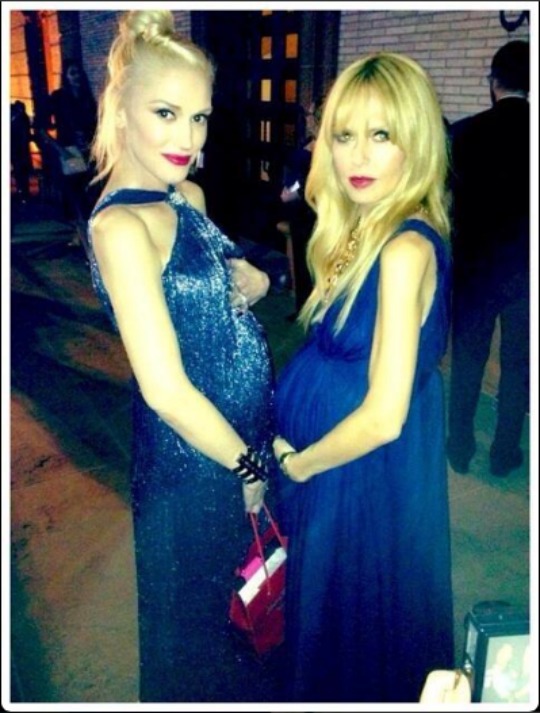 After all the is-she-isn't-she over whether or not Gwen Stefani is with child, it seems Rachel Zoe has officially let the cat (should that be baby?) out of the proverbial bag. (Maybe not. Babies in bags sounds wrong.)
ANYWAY.
Gwen has yet to make any official comment on reports that she is expecting her third child with hubby Gavin Rossdale, but American fashion stylist Rachel Zoe posted the pic above on her Twitter feed, pretty much putting our doubts to flight. Unless Gwen just ate a lot of canapes at the posh bash the pair were at.
Rachel Zoe edits  The Zoe Report and alongside this snap she posted:
'Another fun one from moms night out at #wallisannenberg! Isn't Gwen the most gorgeous?'
The Daily Mail reports:
"Rachel, 42, is expecting her second child while it will be a third baby for 44-year-old Gwen, who confirmed her pregnancy that evening by cradling her stomach in photographs.

The pair were both in attendance at the Performing Arts Gala in Beverly Hills on Thursday night.

They were also spotted sharing a tender moment with Nicole Richie, 32, who was photographed feeling Rachel's bump for a kick while chatting to Tobey Maguire's wife Jennifer Meyer, 38."
Rachel already has a two-year-old son called Skyler, while Gwen's boys are named Zuma and Kingston.
Aw. It's baby central for those LA Moms. Good luck with your pregnancies, ladies!