Saving money isn't always synonymous with fun. Some of the PlayPennies team were chatting about this recently. Sometimes money-saving tips and tricks can seem a bit, well, dull, and if you're sticking to a really tight budget it's easy to feel like fun is always just beyond your means.

So we scratched our heads and chewed on the ends of our pencils and brainstormed a bit until we came up with some fun ways of saving money. So how do you like the sound of saving money, having fun AND being able to eat the end results?
According to the Royal Horticultural Society, increasing numbers of us are turning to our gardens instead of our grocery stores in search of affordable food, in a bid to keep our monthly food bills to a minimum.
The Independent newspaper had this to say on the subject earlier this month;
"With the force of the recession still being felt, increasing numbers of homeowners are turning green-fingered as a means of keeping their food bills down

. In the past month alone 25,000 of them have signed up to an RHS pledge to grow more of their own. Over the past three years, more than 750,000 people have contacted the society asking for information on how to grow fruit and vegetables. Interest is at such a level that the RHS, which runs the Chelsea Flower Show, is launching a smartphone application to help amateur gardeners."
But can you really save money by growing your own grub? Well, yes,  if you focus on relativeley inexpensive fruits, vegetables and seeds such as tomatoes, herbs,  carrots, potatoes and strawberries. You might have to shell out in the short term to get the necessary kit but even that doesn't have to be expensive - a yoghurt pot and a packet of cress seeds is a brilliant start, especially for kids.

To get you started, check out the One Pot Pledge®. It's an exciting new grow your own campaign from leading gardening charity Garden Organic. Their aim is to get 30,000 people who have never grown anything before to give growing a go.
The Get Growing page on their website has some absolutely brilliant resources to get you started. There are 10 different PDF files that you can download completely free of charge, which tell you everything you need to know about growing 10 different fruits and veg, all of which are easy for beginners to get stuck in with.
All your questions will be answered, and the information is really comprehensive, covering whether you're growing plants from seeds or from seedlings, what kind of pots to use, and how to care, maintain and harvest your handiwork.
Suttons do some lovely seeds and How To Grow packs for little gardeners and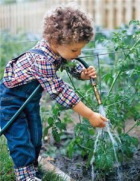 most supermarkets do their own range of garden related items, with lots of ranges just for kids. For example, Marks and Spencers do a lovely Grow Your Own Strawberries set and at £8 it's quite competitively priced. We recently bought a set of 6 strawberry plants for £9 from our local garden centre. Argos also do an Unwins one for £4.99, down from £7.99.
Look out for seeds and related gardening accesories at your local pound shop too. The BBC's Gardening with Children Guide is also worth a look.
You don't need a greenhouse or even a garden to be a gardener. And there are few more money-saving pleasures in life than picking items to eat from your own kitchen garden, whether it's from the greenhouse, vegetable patch or pots on your windowsills.
If the thought of growing your own grub tickles your fancy and you're going to be anywhere near sunny Surrey this weekend, check out the Crocus Open Day for more inspiration! It's open from 9.30am until 4.30pm on Sunday 24th April and the first 50 people through the door will get a free plant and a cup of tea! We've been told it'll be a lot of fun and that there will be plenty of bargains to be had...