It's official; it's just not the festive season until you've bought your novelty Christmas jumper. And what a selection there is to choose from this year.
It's as if every clothing retailer on the planet has finally cottoned onto the fact that the silly seasonal sweater is the must-have item for any discerning style hound. From John Lewis and Sainsburys to Asda and Matalan, everyone from your granny to your dog is catered for when it comes to the perfect Christmas jumper.
So, to help you choose the right ones for your brood, here are twelve of our favourites...
1. Deck out the man in your life in this funky Reclaimed Vintage Christmas Jumper featuring a groovy retro ski scene. Normally £40, it's down to just £20 right now at ASOS.
2. We all know someone who's a bit Bah-Humbug about all things Christmassy, so play them at their own game with a Grinch Christmas Jumper - Dr Seuss fans will love it, and at £15 from Asda it won't blow your Christmas budget either.
3. Since it's well documented that mums generally do the lion's share of Christmas prep in the average household, so you might as well look the part too with this Ladies Knitted Elf Design Christmas Jumper from Universal Textiles. You can snap one up for £9.49 at the mo.
4. For those who take style truly seriously, what about this clever Not Another Christmas Jumper by Red Herring for Debenhams. There are limited sizes available but the price is unbeatable - it was £25 but now is just £7.50.
5. Personally I'm not quite ready to embrace the whole festive sweater thing - let's just say I'm not quite over difficult childhood memories on a similar theme - but even I could cope with this stylish Navy Candy Cane option from Next. It's currently £22 but I reckon these will fly off the shelves.
6. This Polar Bear Sweater is a similarly stylish option from Next but at £28 it might be one to pop on your wish list when you're writing your letter to Santa.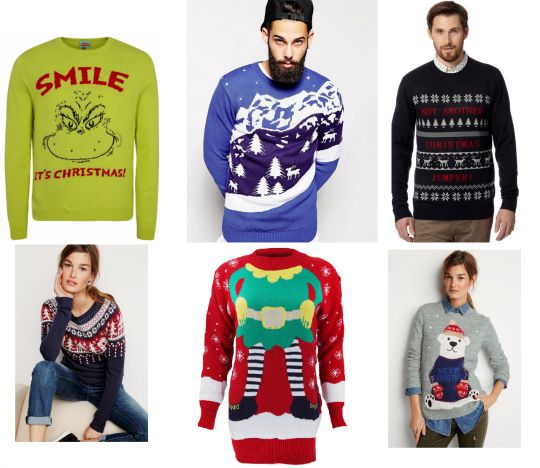 7. Know anyone who might like this Green Elf Hoody? I know a few people I wouldn't mind buying one for but I don't think they'd thank me. It's currently £25 at Next.
8. Hardened bargain hunters might appreciate this Tesco Value Christmas jumper - it's £18.99 at eBay.
9. As for the kids, this reindeer cashmere mix jumper from JoJo MamanBebe is a pretty special option but at £22 it's not cheap.
10. So if you're looking for more affordable options for the kids for Christmas, check out this Fluffy reindeer Christmas jumper for girls from Matalan. It's just £12 and comes in sizes to suit ages 12 months to 5 years so it might make a cute first Christmas outfit.
11. For the boys, John Lewis has this polar bear jumper on sale at £11 right now, down from £22.
12. And if you feel like treating yourself to a Christmas jumper that'll put you in the party mood, check out this adorable tinsel jumper from peacocks. Normally £18, you can nab this for just £9 if you're quick.
13. And finally, just in case the dog feels like the odd one out, how about this Christmas pullover for your pooch? It's only a fiver from Matalan!