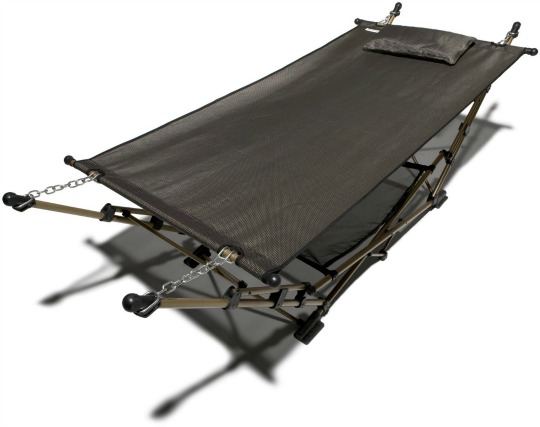 A portable folding hammock and change from £50 - what's not to love? This one from Strathwood Basics is half price at Amazon right now - just in time for Father's Day - at a wallet-friendly £44.50 instead of £89.00.
I was going to suggest that it's the perfect pressie for Father's Day but who am I kidding - I just want someone to buy this baby for me! Can you imagine the luxury of being able to rig up your own hammock wherever you like at the drop of a hat? This one folds up into its own carrying bag with a shoulder strap and comes with a removable pillow.
It's made from a durable, powder-coated steel frame and Textilene fabric, with chains for suspension. It measures 93 inches (236 cm) by 40 inches (102 cm) by 26 inches (66 cm) and weighs 24.86 pounds (11.3 kg) which I have to say doesn't sound particularly portable to me, and it shouldn't be left outdoors all year round even though it's made from weather-resistant materials.
Still, I reckon I'd just set it up in the back garden on a sunny day and refuse to move until someone peeled me a grape or brought me a Pimms.
With thanks to you_gotta_be_kidding at HUKD!