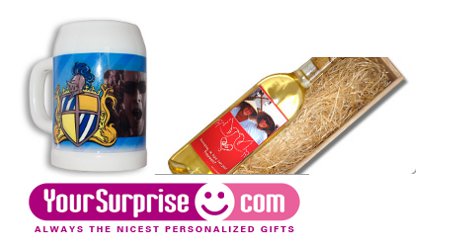 With Father's Day fast approaching, I'm thrilled to have this 15% off voucher from YourSurprise.com at my disposal.
Personalised gifts for Father's Day from YourSurprise.com
Discount: 15%
Code: PlayPennies
Valid On: Father's Day items
Valid Till: 19 June 2011
YourSurprise are a Dutch company, based in the Netherlands, but serving the UK public. While they offer the usual 'personalise a pillow, soft toy or greeting card' service, they also offer a few other unique twists on the theme – such as a label for a bottle of wine, chocolates with a photo or text, creating your own song, and loads more.
I've ordered a personalised story book for my daughter, who currently loves seeing her name or her self in books and videos, and as you can add characters, Daddy and child can be heroes of a personalised bed time story! While the book itself is £11.95, the 15% discount brings the total for the book to £10.16.   Shipping from Holland is an additional £2.95 via a courier service, and you can choose your delivery preferences when placing your order.
It's also an ideal way to send a gift directly to someone, as it can be gift wrapped.
My favourites from YourSurprise for Father's Day are the photo beer mug, which will cost you £12.28, and the personalised Zippo for £30.56.
And, to add to my list of things I like about YourSurprise.com is the fact that you can pay by PayPal, so no finding your card, entering your details and faffing around with all that – just simple and easy, browse, buy and pay.