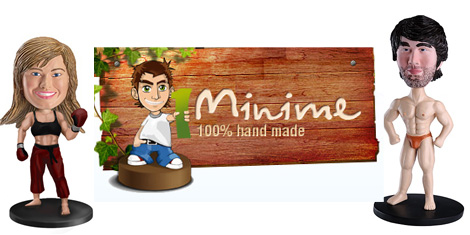 There are just over two weeks left until Father's Day (19 June) and if you're really stuck for an original pressie then a personalised Bobblehead doll might solve your problem.
Ok, the usual price for a custom Bobblehead doll is £59.99 but if you buy this Groupon voucher you'll be able to pick one up for £29.99, saving yourself £30.
I'd not come across these Bobblehead dolls before but having had a look at their website - click HERE to go there - I'm rather taken with them; they're funny and TOTALLY unique.
You choose the statue body you want, send in a photograph of the person whose head you want to adorn it and then 1minime do the rest!
They'll create a model of the head from the picture you give them and within 48 - 72 hours you'll have your very own minime - or mini-someone-else -  back at home with you.
There are lots of bodies to choose from ranging from sporty bods, hobbies, work bodies and even ones for weddings if you've got Father's Day covered already.
All you have to do is buy this £29.99 deal through Groupon BEFORE 11.59pm on Friday 3 June (that's tomorrow) - the clock is ticking.
Your voucher will activate on Monday 6 June, you won't be able to place your order before then, and is valid until 6 September; you'll have to pay for delivery which is an addition £13.90, I imagine that's to make sure your minime arrives in one piece so won't be by standard 1st Class mail via the posty!
Happy Bobblehead creating!