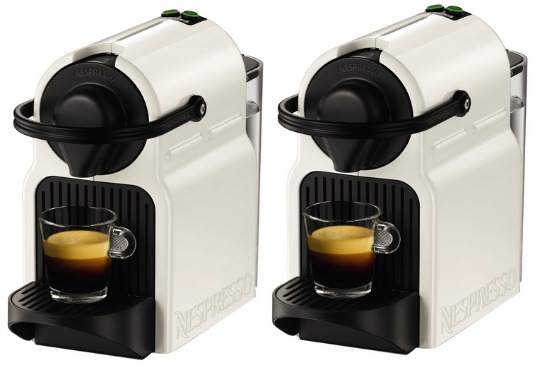 I cannot function without my coffee in the morning. Serious case of bear with a sore head before having one. I don't mind instant coffee but my coffee machine make a better cup of coffee. I have a Tassimo which I got cheap and it's fab but recently on my travels to Paris, the hotel had a Nespresso machine and it made absolutely delicious coffee. Get the Nespresso Innisia Coffee Capsule Machine by KRUPS for just £54.99 with FREE delivery included.
With a Nespresso machine you need not worry ever about finding capsules. Not only will you find the official Nespresso Capsules but you will find supermarket own brand ones too that are compatible. Fill in the from here for £25 off your Nespresso Coffee order.
Coffee Machines work by extracting coffee through pressure, this machine uses 19 bar pressure. That's what gives us that strong, fresh cup of coffee. Nespresso machines are notoriously easy to use and as this one has been designed as an introductory to the brand, I doubt very much that it's hard to function.
You can choose between two sizes Lungo and espresso, espresso being the smallest. The water used in this machine can heat up in just 25 seconds. It features a de-scaling programme too so you need not worry about that.
Why not treat someone? Father's Day isn't that far away.
Thanks to jennypenny @ HUKD