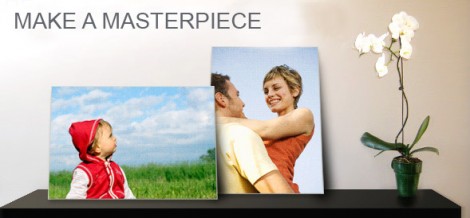 In my other life as a photographer I'm always on the lookout for great photographic deals
Sometimes you take a photograph that is just crying out to be printed BIG and given pride of place on a wall.  Large canvas prints can be notoriously expensive and with so many different  printing companies to choose from it can be difficult to know who to trust, the last thing you want to do is part with lots of cash and end up with something that's not as good as you thought it was going to be.
I've used Photobox a lot and they've always been superb to deal with, as has the quality of their printing (they can't help you with the quality of your photographic skills though *grin*) so they're always a safe pair of hands in my opinion.
They currently have some stunning deals on canvas prints so if you've been thinking about them but have been put off by prices then maybe this will help!
All canvasses are stretched around either 3.8cm or 4.5cm deep-box wooden frames and your photograph will continue round the edges, unless the bods at Photobox believe this would be detrimental to the overall finish OR you's prefer to have a white edge...all you have to do is say so.  They're also sealed with a semi-matt varnish so they're protected and only need to be wiped down with a dry and clean soft cloth.
The sizes and current prices are as follows:
25cm x 25cm = £21.99 (was £35.39)
40cm x 30cm = £29.99 (was £54.99)
40cm x 40cm = £39.99 (was £60.59)
60cm x 40cm = £59.99 (was £75.69)
70cm x 70cm = £64.99 (was £95.79)
76cm x 51cm = £62.99 (was £90.69)
107cm x 46cm = £69.99 (was £100.99)
The biggest problem you face now is where to hang them all - enjoy!