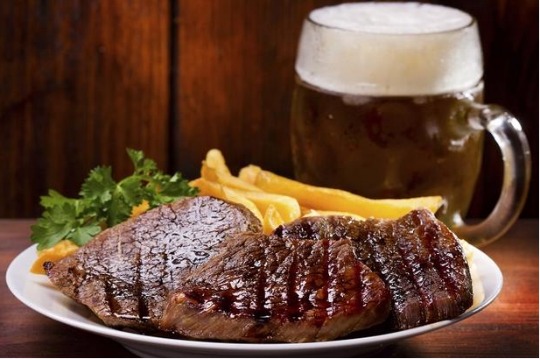 If you are planning on treating Dad to a meal out on Fathers' Day then we have some great news for you. The big pub and restaurant chains are positively fighting for your custom, and on Sunday 21st June there are loads of freebies on offer. It looks like Dads around the country are going to be enjoying some lovely slap-up meals with all the free food and drink being given out! Here's what's on offer so far:
Harvester: Make Dad's Day Free Meal On Fathers' Day* (with printable voucher). After 6.30pm on 21st June you get the cheapest meal is free, as long as you purchase one or more at full price. To take advantage of this offer you need to sign up for Harvester email newsletters, and they will send you your voucher to print out.
Frankie & Benny's: Dad's Eat Free On 21st June*. The free meal is from the Specials Menu, and there are terms and conditions to the offer, but they are not listed on the menu. I would imagine that a full price adult meal would need to be purchased at the same time, but that is just a guess based on the other offers at the moment.
Fayre & Square: Free Pint For Dad This Fathers' Day*. Dad's get a free pint of Foster's or John Smith's Extra Smooth when they purchase a Big Daddy meal. If you book the table online before 14th June you also get entered into a competition to win Dad a race track day.
Toby Carvery : A Fathers' Day Feast Fit For A King*.  Dads get a free King Size upgrade when they order a standard carvery main after 6pm. To get this offer you need to sign up for the Toby Carvery mailing list and they will send you a printable voucher
Beefeater Grill: Free Steak For Dad* (with printable voucher). Celebrate Fathers' Day after 5pm on 21st June and Dad gets his steak for free. You need to visit the website here to download your voucher and book your table.
La Tasca: Free Pint For Dad*. Free pint of Estrella Damm when dining from the £14.95 Fathers' Day Set Menu.
There will be term and conditions attached to all these Fathers' Day promotions, and you can find them on the individual websites. Better tell Dad to skip breakfast as he's going to get well fed later on! ;)
When we find out about any more offers we will add those in here too.