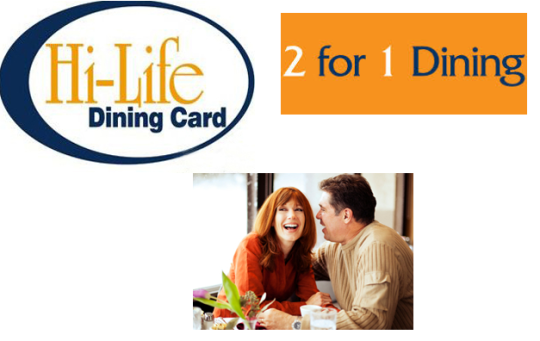 To celebrate all the Dads out there, Hi-Life are offering FREE 6 months membership using the promotional code below.
Get your 6 Months FREE Hi-Life Membership Card
Discount: 6 Months Free Membership
Expires : 1st June 2014
Promotional Code :DAD
This is being marketed as a Father's Day promo but I doubt anyone actually comes to your door to confirm you're a dad, so I'd say it's pretty much open to everyone.
So what is exactly is a Hi-Life card? It's a card you can use in over 5,000 restaurants across the UK and when you do, you'll get 2 meals for the price of 1. We've had one of these cards a while and it's definitely came in handy, it's not just the big chains you'd perhaps expect but includes smaller, independent restaurants too. I'll admit it's not often we get the chance to head out for dinner but when we do it's great to be able to eat at our favourite local restaurant for what amounts to half price.
There's no credit cards details to fill in, no automatic renewal and you're not signing up to anything other than your free 6 months membership.
When you enter the code, you can either claim your 6 month freebie or you have the option to get the Platinum Card for the reduced price of £10. This has a whole load of benefits, including increased weekend availability and exclusive offers from theme parks such as Alton Towers. Just make sure it would benefit your family before you decide to spend the £10.
You could give this to Dad for Father's Day or you could just apply for yourself. Check the link above for restaurants near you and see if you could save some money when dining out.
You'll find this Hi Life Voucher over in our voucher section.
Thanks to choc1969 @ HUKD!