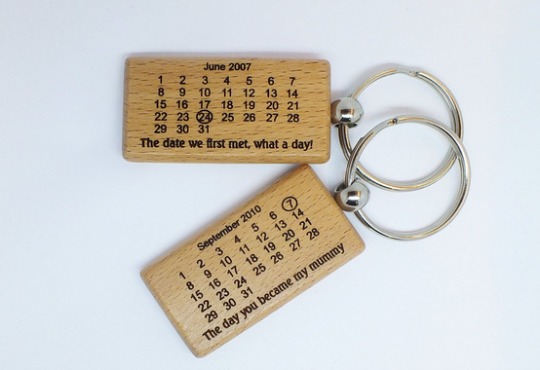 Did you know that it's around five weeks until Father's Day? Do not leave it until the last minute. If you are sick of buying photo mugs, Lynx gift sets and the likes then nip over to Amazon where you can find something for any Dad. We just LOVE these Father's Day  "Day I Met You" Personalised Keyrings from Amazon Seller Gifted Moments. They are just £5.99 with FREE delivery.
These are nice little wooden keyrings with such a sweet little message on them. Reputable Amazon Seller Gifted Moments allow you to personalise it, so it can be for a mum as well as a dad.
Simply follow the instructions in the description on the Amazon selling page, and you should receive a lovely wooden keepsake keyring with it's heart warming message on it.
These only really work if you have one child though. Unless you give Daddy one for his car keys, one for his work's van keys and so on. They are that bit different and I like that they highlight your child's birthday.