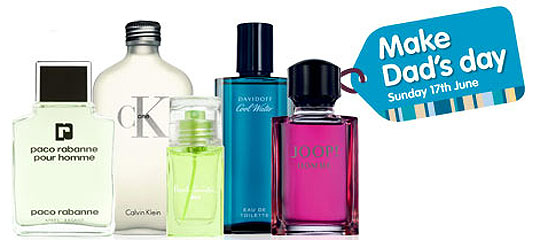 It's Father's Day next Sunday (17 June), are you organised?  If not, pop over to Boots and see if you can find some inspiration there - they have some (up to) half-price and three for two offers running at the moment, in honour of Father's Day.
My dad is notoriously difficult to buy for - he's the typical man who already has everything and if he doesn't and wants it, then he'll buy it!
It makes Christmas, birthdays, Father's Day and any other gift-buying an extraordinarily difficult task; if you have a father to buy for who's the same then Boots may be able to come to your rescue with their Father's Day gift ideas, and you'll be able to save yourself some cash in the process.
There are up to half-price offers on men's fragrances (the words 'fragrance' and 'men' always feel like an awkward pairing to me) and there are various freebies to go with your purchased fragrance too - Hugo Boss are giving away a free, and rather stylish looking, football (if there is such a thing as a stylish football!).
There are offers on men's grooming products too  - okay so none of this is going to set the present-giving world on fire, but it beats giving pairs of socks and a car cleaning kit!
Happy not leaving Father's Day gift buying until the last minute!