You can't possibly have missed the fact that it's Father's Day on Sunday; yes, THIS Sunday!
Yesterday was my day for buying all the various Father's Day present and card paraphernalia for the children to present to their dad on Sunday; I must confess to feeling rather smug that I have all of this done and orgainsed before the day before.
Giving cards is one of my most favourite things about occasions, it doesn't matter if it's birthdays, Christmas, anniversaries, 'just because' or Father's Day. I love spending ages choosing the perfect one and the teenagers often refuse to stand near me in card shops because I'm often reduced to a giggling mess with tears rolling down my cheeks.
Personalised cards make for the ultimate in perfect cards, in my opinion and we asked PlayPennies mum, Ella, to order three such cards from Hallmark to test their quality and service.
There are lots and lots to choose from - cute ones from the kids, funny ones and spoof ones; first Father's Day ones (they're a lovely idea, the first Father's Day is always super special I think) and Grandad ones.
I'm really not sure when our father's fathers got in on the act, it's FATHER'S day...not Grandfather's Day.
Anyway, Ella duly paid a visit to www.hallmark.co.uk and chose her three cards; here's how she got on and her thoughts about the Hallmark experience.
Personalised Hallmark Father's Day Cards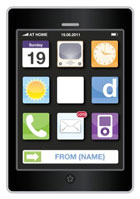 "I choose the iPhone card as my other half hates iPhones, including mine, so I got it for a joke," Ella laughed. "It was quite good fun, as I was able to add silly captions underneath all the icons on the iPhones."
Ella also ordered The Pun card; she told us she has always found the newspaper style cards hilarious.
"I could edit some of the little captions on it, to say personal things about family and friends."
To cover the 'cute cards from kids' angle she also choose the Daddy and Daughter card.
Some of the cards can be personalised with photographs.  In my experience it's worthwhile choosing which photos you're going to use before you start personalising your card, it just makes the whole process smoother and quicker.
So, your pictures have been sorted and you've chosen the cards you want to personalise; the next step is to create your Hallmark Personalised Father's Day card using their online card maker.
"The online card maker was fairly straight forward, for anyone who is used to making personalised items online," Ella told us, "Obviously if you've never used a personalised photo service it might take a bit of getting used to, but it's nothing too tricky."
Ella's used to doing this sort of thing online and going through the process did highlight a couple of things she felt were a little awkward or missing.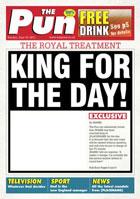 She reported there wasn't an 'undo' button, so you can't go back a step if you make a mistake or don't like what you've done and was disappointed she couldn't add an image to the inside of the card; this is something she's been able to do before on other personalised card making sites and would liked to have been able to do again.
Ella also told us, "The positioning of the photos was a little tricky, I had to keep re-selecting the zoom tool and the move tool, to get it right. But I got there eventually, and managed to position the photos where I wanted them."
Once your cards are made you need to go through the checkout process; Ella confessed to us how surprised she was to discover there was a postage and handling fee.
"I was spending £9, and the order total came to £9.81," she said. "There's no link at the bottom of the page about handling fees, it's not mentioned at all until you get towards the end of the checkout."
Hallmark do mention their  postage and packaging fees in their price guides, but if you're like Ella, who freely admits she never reads them and just jumps straight into things, you could be in for a bit of a surprise; the larger your cards and order the larger your P&P costs are going to be.
And finally...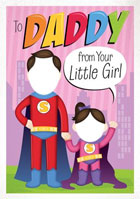 All of that said, Ella was very happy with her Hallmark personalised Father's Day card results.
"The cards were of a very high standard. They were on thick card, and the printing was good quality," she said, "The outside of two of the cards had a nice glossy finish but the newspaper style card, the finish was matte."
Ella doesn't recall reading any notice about this being the case on the Hallmark website and confessed she would have preferred it glossy.
Prices for personalised Hallmark Father's Day cards start from £2.00 for small ones, £3 for medium and large cards will cost you £5.99; there's a full money-back guarantee if you're not completely happy with the results.
If you order before 2pm, Monday to Friday, Hallmark will post your cards to you by first class mail that same day, so you've still got time to order yours in time for Father's Day (this Sunday, remember!).