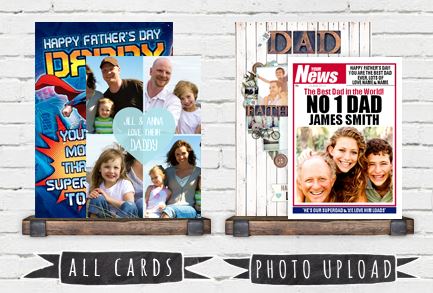 Funky Pigeon have Father's Day cards for sale from £1.79 to £4.99. They have the offer code below however, which means that if you pay through PayPal you can take a Pound off, meaning you can get a personalised Father's Day card for 79p. You can also have it delivered directly to your recipient for the standard 62p, making it £1.41 delivered.
Head to Funky Pigeon for Father's Day Cards*
Discount: £1
DiscountCode: PAYPAL1
There are loads of cards to choose from, whether they are personalised or not, themed or otherwise, whether you want cutesy or formal, or completely fun, they're all options there.
It's not all about dad either - you could throw a grandad card in the mail - you know he'll love it!
I also love that you can have this delivered right to the recipient, with a 'don't open before' note, so it can get to them in time. If you forget to get a card for dad, and you happen to be reading this the day before Father's Day, you can also have it delivered the next day for a whopping, but totally worthwhile, £6.75.
You can find this and future Promo Codes for Funky Pigeon on our vouchers page.