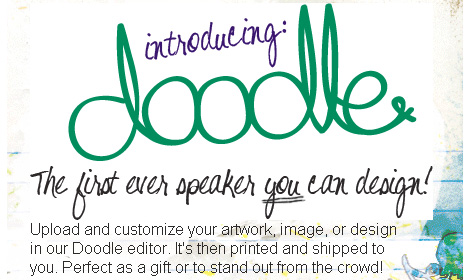 Father's Day is creeping up on us rather rapidly; it's Sunday 19 June if you weren't sure when it is.
Dad's can be tricky devils to buy for sometimes but I came across this site yesterday which might solve that problem for you this year.
Doodle is an iPod/iPhone/MP3 player/laptop speaker that you can personalise with ANY design of your choice!
If you have a little one you could take a print of their hand and foot, take a photo of it, upload it to the site and have it printed on a speaker for dad.
The possibilities are endless - a treasured photograph, a handwritten message, a picture that your child drew especially to mark an occasion - a Doodle speaker doesn't just have to be for Father's Day.
For those technically minded among you, here's some spec' info for you:
The speaker is small enough to fit in your pocket (as long as you don't have teeny tiny pockets that is),  has a total output of 3 watts and  an be used with anything that has a headphone socket.
It can be powered with 2  AAA batteries or USB and costs £29.99 including delivery, which will take between three and five days.
I really like this idea and it sure beats having to give  socks or that yet another car cleaning kit as a gift and just to make it even better I have a 25% off gift code for you to use too - just enter FATHERSDAY25 at the checkout and you'll get 25% discount off your Doddle speaker; marvellous.