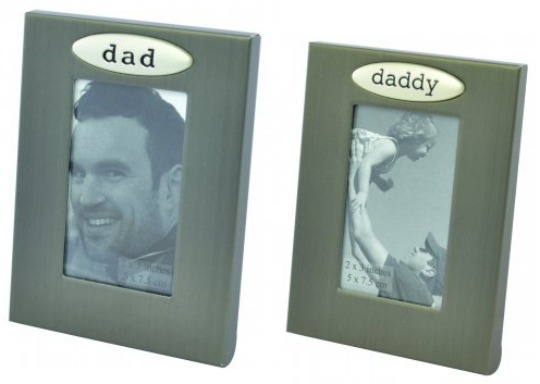 You need to use some codes to get these prices but read on and grab your bargain Father's Day frames from the Internet Gift Store.
If you missed the Frozen cutlery set we blogged last night, these 4 codes are still stacking together, which combined with the free UK delivery over the Bank Holiday weekend, makes for some bargain prices.
The small Daddy frame measures 5cm x 7.5cm and is in a stylish metal case. Originally it was £1.49 plus delivery but you can get it for 71p delivered using 3 of the 4 codes below. If I try to add the final 20% code (1GS20) the price actually increases to 97p.
The small Dad frame will accept all 4 codes and this drops the price from £2.39 to £1.05 and delivery is free. This will fit a 2"x3" photograph.
You MUST be logged into your account or register for a new account before these codes will work.
Discount 50p
Expiry Unknown
Code : FACEBOOK1
Discount 10%
Expiry Unknown
Code : ICLICKED
Discount 10%
Expiry Unknown
Code 1ST10
Discount 20%
Expiry Unknown
Code : 1GS20
These codes will work on anything on the site, you really just need to add your chosen items and mess around a little to get the best price. They have a large range of Father's day gifts and a whole load of character branded items, including a Sven Frozen cup for 79p (using all codes) and a wide range of lunch bags.
The codes could be pulled on this one at any time and the free delivery will end tonight, so if you want to place an order, do it now.
You'll find these Internet Gift Store codes and lots more too, over in our voucher section.