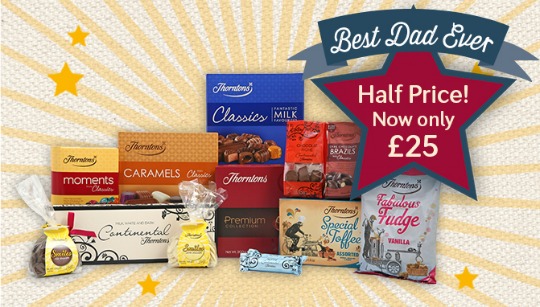 Thorntons have a mega offer on this huge Choctastic Gift Collection today. It's normally £50, but if you order before 4pm today and use the code CHTS you get it for £25, with free delivery in time for Father's Day!
Want to know what's in it? It's a lot...
Continental Milk, White & Dark Collection (150g)
Classics Milk (276g)
Premium Collection (200g)
Assorted Special Toffee Box (500g)
Classics Moments (250g)
Classics Caramels (146g)
Vanilla Fudge Bag (285g)
Continental Chocolat Riche Bag (93g)
Classics Dark Chocolate Brazils Bag (98g)
White Chocolate Smiles Bag (154g)
Milk Chocolate Smiles Bag (154g)
Continental Alpini Bar x2
That seems an awful lot of Thorntons for £25, and although they are advertising it as a Father's Day gift there's nothing that says 'Dad' on it. so you could give it to anyone, split it up for Teachers Gifts, or gobble it up yourself. There's enough in there for all of that probably!
This offer finishes at 4pm today, Tuesday 16th June, and remember that code CHTS to get this Choctastic Gift Collection for £25 with free delivery.