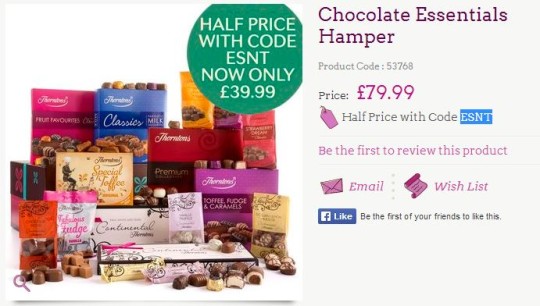 Thornton's have a rather minuscule reduction on some of their Father's Day Hampers right now, but also a 50% sale on their massive Chocolate Essentials Hamper, making it  £39.99 with the code below.  Orders over £30 also only have a £1 delivery charge as compared to the usual £3.95.
50% Off the Father's Day Chocolate Essentials Hamper*
Discount: £40
Expires: 1 June 2014
PromotionalCode: ESNT
My husband has a sweet tooth that puts mine to shame. I seriously can't have nice stuff in the house without hiding it away or he'll have at it. And not obviously too - no, he'll open the bottom of a box of chocolate buttons and nibble away so by the time I get to opening the box to bake something, it's near empty. I flip out over it all the time, but he goes on anyway! Annoying much? Hell yeah!
While his behaviour sure doesn't deserve chocolate, when I saw the amazing offers on at Thornton's I couldn't help myself. With the code above you can take £40 off the Chocolate Essentials Hamper, which will then cost you £39.99... for Continental Milk, White & Dark Signature (300g), Continental Milk, White & Dark Collection (150g), Original Special Toffee Box (525g), Premium Collection (200g), Classics Milk Signature (276g), Classics Fruits Collection (143g),Classics Toffee, Fudge & Caramel Collection (142g), Vanilla Fudge Bag (140g), Continental Vanille Truffle Bag (103g), Continental Sicillian Lemon Mousse Bag (108g), Classics Milk Orange Bag (105g), Continental Chocolat Riche Bag (93g), Classics Milk Strawberry Bag (114g), Classics Turkish Delight Bag (101g), Continental Viennese Bar Continental Lemon Bar. That's a massive haul, easily split between dad and grandad, quite frankly!
I got my hubby the "Best Dad" Hamper, reduced from £29.99 to £27.99 - not epic savings, but still great value for money. It arrived in an organza wrapping, with a chocolate 'name tag' you can personalise. This hamper contains Pre-iced 'Worlds Best Dad!' Alphabet Truffles, an Assorted Special Toffee Box (500g), a Classics Milk, White & Dark (274g), a Father's Day Beer Mug in Chocolate (150g), a Classics Dark Caramel Bag (103g), an I Love Dad Truffles (65g) and a Red Milk Chocolate Tag (30g).
I'm combining it with anAwesome Dad t-shirt, afree photo from Asda, a Personalised Bottle of Whisky and a photo mug. And totally hoping this all makes up for what was a pretty rubbish birthday for him last month!
For this and otherThornton's Chocolate Promotional Codes have a look at our voucher page!